Transportation
Metro during the conference
The Crystal Gateway Marriott is conveniently located on the DC Metro (WMATA) routes. Take the Yellow or Blue line to the Crystal City Station. The hotel lobby is connected to the Crystal City Station through an interior pedestrian concourse within the complex of Crystal City Shops, without going outdoors.
The Metro is an excellent way to explore all of Washington, D.C. and the surrounding communities. Use the Trip Planner to create a customized route from your location to anywhere else in the D.C. Metro area. Consider purchasing a MetroRail Pass for a day or a week with unlimited travel on the Metro during your visit to Washington.
Parking: The cost to park at the hotel is either US$ 29/day (self parking) or US$34/day (valet parking). See details here:
Car rental at the hotel: Hertz tel. +1-703-271-5245
When weather permits, biking is a good way to beat the traffic or enjoy the riding pleasure. CapitalBikeShare is available in the metropolitan area. We suggest you look at the details here: http://www.capitalbikeshare.com/. The area around the hotel has several racks and bikes are usually available.
From airports to hotel
BWI (Baltimore): the airport is located 37 miles from the hotel.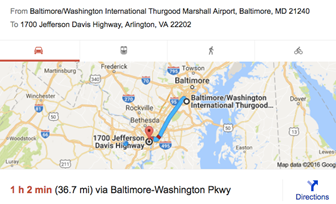 While BWI is 37 miles away from DC, usually traffic is so heavy that the best option is to take the shuttle (as opposed to Uber/cab/rent a car). SuperShuttle operates around DC: http://www.supershuttle.com/. Alternatively, you can get a shuttle to DCA (10 min from the hotel), and take the metro or a free shuttle (provided by the hotel) from there: http://www.theairportshuttle.com/airports
IAD (Dulles): The airport is located 28 miles from the hotel.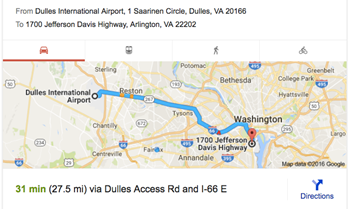 Uber/Lyft/similar ride sharing options: ride sharing service is a reliable/reasonable cost option around DC. Download the app on your phone before traveling. When you then click on Uber/Lyft, make sure you write (text or call) which door (a number 1 through 10) you are at. The cost of an uberXL is between $65 and $85, while an uberX is between $40 and $50.
Taxi: If you choose to take a cab, go down the ramp from the baggage claims at Dulles. The cost of a cab from IAD to the hotel is between US$70 and US$80.
Shuttle: if you prefer a shuttle, we suggest you book it before traveling: http://www.supershuttle.com/
DCA: absolutely the closest airport to the hotel: 1.4 miles.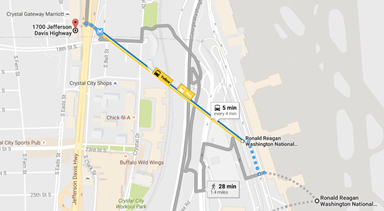 Uber and cabs are available, and there is metro available from DCA to the hotel. The best option is to get the free shuttle from the hotel. Information about shuttle provided by the hotel for pickup from DCA is here: http://www.marriott.com/hotelwebsites/us/w/wasgw/wasgw_pdf/Hotel_Shuttle_Service_DCA01.pdf
By metro: take the yellow line toward Greenbelt or toward Mount Vernon Square; or take the Blue Line toward Franconia-Springfield, and in two minutes you'll arrive at Crystal City. The cost of the metro ticket is either $1.75 (non peak times) or $2.15 (peak times). Please consider purchasing a MetroRail Pass for a day or a week with unlimited travel on the Metro during your visit to DC. Here is an example of a trip on 12/6. Metro and bus trips can be planned ahead with the online Trip Planner: http://www.wmata.com/rider_tools/tripplanner/tripplanner.cfm